Werner Christukat's Nazi Party Card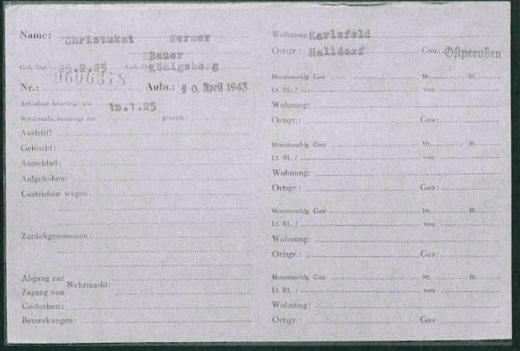 Werner Christukat, age 93, was a member of the 3rd Company of the 1st Battalion of the SS-Panzergrenadier Regiment "Der Fuhrer" that murdered 642 men, women, and children (including infants) on June 10, 1944, in Oradour-sur-Glane, France, days after the Allied invasion at Normandy.
In 2013, German prosecutors formally charged Christukat with participating in the murders of 25 people and being an accessory to hundreds of others.
Christukat was a machine-gunner, who has admitted to being in Oradour-sur-Glane on the day of the massacre but has denied participating in the murders.
In 2014, a German court in Cologne dismissed the case, citing a lack of sufficient evidence to enable the accused to disprove the murder charges against him.
With the help of an attorney, Dr. Christoph Partsch, in Berlin, I was able to sue the public prosecutor's office for access to Christukat's file.
As a result of that suit, I was only permitted by the German court to a written colloquy with prosecutors concerning some of the file's contents.
Andreas Brendel, who leads the central office for dealing with Nazi war crimes in the state of North Rhine-Westphalia, reported to me that a member of the 5th group of the 2nd platoon of the 3rd Company of the SS-Panzergrenadier Regiment 4 "Der Fuhrer" stated that after carrying out executions at a barn, fuel was procured to ignite the town church, wherein hundreds of women and children were burned alive.
The prosecutor, however, would not specify to me who that member was, but the indictment suggests that prosecutors had believed Christukat took part in the murders at the town church by either procuring fuel or shooting women who sought to escape the inferno.
According to Brendel, Christukat was questioned a total of five times. Three of those interrogations were conducted by or in the presence of a public prosecutor from Dortmund. All interrogations were recorded. In addition, notes were taken at two interrogations.
Because of the press law in Germany, the public is unable to access Christukat's file until 30 years after his death.
Christukat was captured by the British on June 24, 1944, in Caen, France, and held as a prisoner of war until January 22, 1947.
The Landgericht Cologne court denied opening a proceeding against Christukat on December 9, 2014. A regional court upheld the ruling in 2015.
Some observers have noted that the tactics employed by the SS-Panzergrenadier Regiment "Der Fuhrer" in Oradour-sur-Glane were commonly employed on the Eastern Front. Famed Nazi-catcher, Serge Klarsfeld, told me in an interview that Christukat had been in the Ukraine as early as 1943.
Below is a copy of Christukat's Nazi party card from the federal archives in Berlin, Germany that I also obtained with the aid of attorney, Dr. Partsch.