More on the State Department First 'Official' Release of a Hillary Clinton Email resulting from my FOIA lawsuit
Heavily redacted emails (including one to the former secretary of state Hillary Clinton's personal account in violation of official policy, which was featured in an article about my Freedom of Information Act lawsuit by Jason Leopold at Vice News), provide critical new insight into the untold story of how high level State Department officials handled Private Chelsea Manning's disclosures and their subsequent publication by the WikiLeaks organization.
My attorney Jeff Light also represents Leopold in his own FOIA related litigation.
[gap]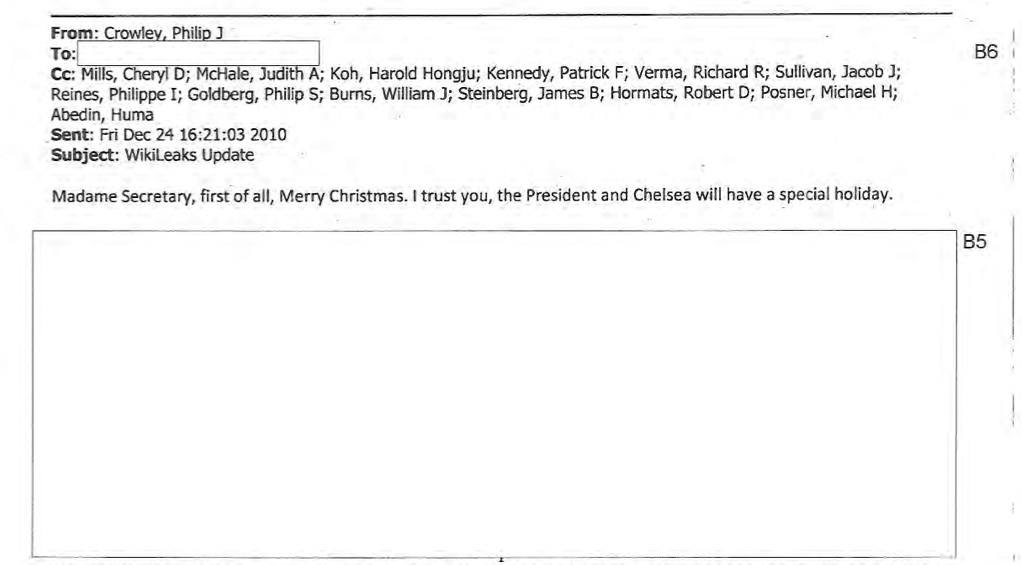 [gap]
The heavily redacted email to Clinton from the former assistant secretary of state for public affairs, P.J. Crowley, contains a discussion by high-level officials at the State Department about the New York Times and WikiLeaks.
Other emails responsive to my request include communications between high levels State Department, White House, and Justice Department officials about releases by and the criminal investigation into Manning and WikiLeaks.
Despite allegations by Clinton, Crowley, and other high-level State Department officials about serious risk to individuals resulting from WikiLeaks' publication of diplomatic cables, emails and my research indicate that the State Department actually asked the New York Times to hold off on the newspaper's story about persons allegedly at risk, because mechanisms to handle the matter were neither fully established nor operational at the agency.
The revelation is based on emails released to me as a result of my FOIA litigation against the Department of State as well as my own research and previous work.
According to the testimony of a State Department official at Manning's pre-trial, the State Department did not set up a group to handle the issue until late December 2010, a month after WikiLeaks started publishing the diplomatic cables and more than three months after the agency had completed a comprehensive review of all the documents in WikiLeaks possession.
On November 29, 2010 (in the wake of initial publication of diplomatic cables by WikiLeaks), Clinton told reporters that WikiLeaks releases "puts people's lives in danger, threatens our national security, and undermines our efforts to work with other countries to solve shared problems."
Crowley echoed Clinton remarks, telling reporters the same day that the State Department "continue[s] to underscore that this release is damaging and does put individuals at considerable risk."
But, the WikiLeaks Persons at Risk Group (WPAR) was neither fully formed nor operational when Crowley asked reporter Mark Lander of the New York Times to hold off on his story about those allegedly at risk until after Christmas 2010, according to an email released to me dated January 5, 2011.
Lander had also sent another earlier email, dated December 22, 2010, to the assistant secretary in the Bureau of Democracy, Human Rights, and Labor (DRL), Michael Posner, inquiring about the the progress the State Department was making to mitigate what its officials referred to as serious risk to individuals resulting from the disclosures.
(On the same day as Lander's email, the United Nations Special Rapporteur on Torture, Manfred Nowak, confirmed that he was looking into a complaint that Chelsea Manning was being mistreated at a Marines Corp Base Quantico prison in Virginia, where she was confined.)
[gap]
[gap]
Postponed Stories
The December 24, 2010 email to Clinton and Lander's emails on December 22, 2010 and January 5, 2011 were all produced by the Bureau of Democracy, Human Rights, and Labor (DRL) in response to my FOIA litigation.
DRL was responsible for establishing a means to identify individuals at risk due to the disclosures as well as methods and policies to handle the issue, according to testimony at Manning's pre-trial.
Lander's December 22 email to Posner was a follow up to an earlier conversation that he reportedly had with the assistant secretary a couple weeks before.
On January 5, 2011, Lander asked Posner to use his influence to break the "logjam" on the story about individuals, whom officials at the State Department alleged were at risk, expressing frustration that he was scooped on another story that he agreed to postpone.
The other story that Lander postponed was about the US Ambassador to Libya's stateside return in the wake WikiLeaks publication of his diplomatic communications detailing the idiosyncrasies and "voluptuous" Ukrainian nurse of former Libyan leader Moammar Gadhafi.
According to Lander, the New York Times was scooped by McClatchy on on January 4, 2011, when reporter Warren Strobel cited an anonymous senior state department official saying, "the WikiLeaks revelations were not the only reason for [US Ambassador to Libya Gene] Cretz's return, noting the frustrations of U.S.-Libyan ties."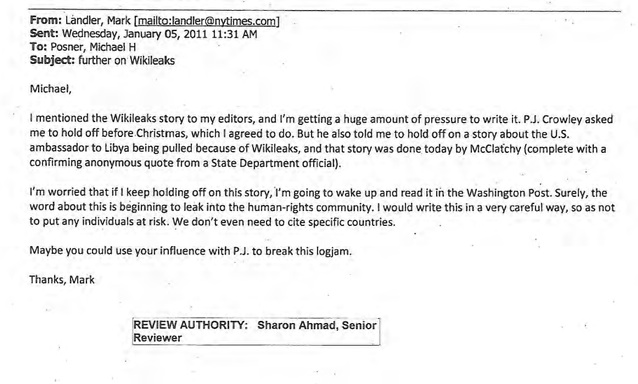 WikiLeaks Persons at Risk Group
According to testimony by the director of the Operations Center at the Department of State, Rena Bitter, during the Manning pretrial, the WikiLeaks Person's at Risk group was not established until after December 17, 2010, when another task force, primarily responsible for handling negative publicity from the leak of diplomatic cables, was disbanded.
Bitter testified that the 24/7 WikiLeaks Task Force was stood up between November 28th and December 17, 2010, adding:
"At the time, in particular it was important because the Secretary was traveling overseas and seeing a variety of different interlocutors, and she was seeing folks at a particular multi-lateral event where she would have run into a lot of her counterparts."
Bitter also testified that the WPAR group stopped meeting formally five months later in May 2011.
While the actual number is classified, according to an anonymous source, the number of people relocated by the State Department as a result of Manning's disclosures to WikiLeaks is between 20 and 30. Almost 5 years later, there have been no reported fatalities resulting from the disclosures.
Journalist and author William Arkin reported in 2013 that a comprehensive review of every document Manning disclosed to WikiLeaks by the Defense Intelligence Agency was determined to present moderate to low risk.
#learnedtoday #WikiLeaks Information Review Task Force created July 29, 2010 within @DefenseIntel. Damage assessment? "Moderate" to "Low"

— William M. Arkin (@warkin) December 2, 2013
Reuters reported in January 2011 "shortly after stories about the cables first began to appear in the media, State Department officials were already privately playing down the damage, the two congressional officials said" and internal government reviews determined that Manning's disclosures had "caused only limited damage to U.S. interests abroad, despite the Obama administration's public statements to the contrary."
December 24th Email to Clinton
The Clinton email is part of an incomplete and developing collection of records produced by Department of State responsive to my FOIA litigation. Prior to attorney Jeff Light filing the lawsuit, the State Department had not acknowledged my original March 2013 FOIA request.
On December 24, 2010, Crowley emailed Clinton and carbon copied Posner. Posner then forwarded the email to DRL officials citing one of the items in Clinton email that remains hidden under white redactions.
The December 24th email to Clinton was carbon copied to her chief of staff, Cheryl Mills; and high-level officials including the under secretary for management, Patrick Kennedy; the former assistant secretary of state for the Bureau of Intelligence and Research, Phillip Goldberg; and the former legal advisor, Harold Koh who all had their hand in some part of the criminal and intelligence investigations of WikiLeaks.
Patrick Kennedy, Under Secretary for Management
Diplomatic Security Services (DSS) reports to Ambassador Patrick Kennedy, the under secretary for management at the Department of State.
DSS partnered with the Departments of Defense and Justice in the investigation of Julian Assange, WikiLeaks, and Manning.
DSS handled the investigation of all leads involving the Department of State and assisted the Department of Defense and Justice with forensic analysis of hard drives that arrived from Iraq on June 10, 2010.
DSS had been investigating the unauthorized disclosure of Department of State material by WikiLeaks since February 2010, when the organization published a 2010 diplomatic cable originating from the US Embassy in Iceland.
Phillip Goldberg, Assistant Secretary of State for the Bureau of Intelligence and Research
The Bureau of Intelligence & Research (INR), responsible for the State Department's WikiLeaks August 2011 "draft" damage assessment, which is classified and has never been publicly released, is the intelligence arm of the Department of State.
INR forms part of the U.S. Intelligence Community.
The author of the original August 2011 "draft" WikiLeaks Department of State damage assessment was the then director of counter-intelligence and consular support in the Bureau of Intelligence and Research (INR).
The author was also responsible for coordinating counterintelligence and sensitive law enforcement operations and policy for the Department of State and the DSS.
Harold Koh, legal advisor
By August 2011 the State Department had reviewed all the documents believed to have been in the organizations' possession, as a result its participation in a Defense Intelligence Agency Information Review Task Force.
In early January 2011, Reuters reported that an anonymous "congressional official briefed on the reviews said the administration felt compelled to say publicly that the revelations had seriously damaged American interests in order to bolster legal efforts to shut down the WikiLeaks website and bring charges against the leakers.
Prior to publishing the diplomatic cables, WikiLeaks gave the State Department an opportunity to privately elect, "specific instances (record numbers or names) where it consider[ed] the publication of information would put individuals persons at significant risk of harm that has not already been addressed."
The State Department legal adviser, Harold Koh, responded in a letter that the diplomatic cables "were provided in violation of U.S. law…as long as WikiLeaks holds such material, the violation of law is ongoing."
In June 2010, Pentagon former Press Secretary Geoff Morrell stated that the Department of Justice criminal investigation of WikiLeaks is broader than the Manning probe.
In June 2012, I reported that at least seven individuals were being investigated by the FBI and that "Private First Class Manning is a piece of the FBI file," according to the lead military prosecutor Major Ashden Fein at trial. The FBI file, said Fein, was "42,135 pages or 3,475 documents." Manning represented only 8,741 pages or 636 different documents in that FBI file, said Fein. Most of the file is classified.
In February of last year, I reported that other recently released emails responsive to another of another of my FOIA requests at litigation by the Center for Constitutional Rights reveal that the Department of Justice grand jury probe was already empaneled on September 23, 2010, two months before the Attorney General publicly acknowledged an ongoing U.S. criminal investigation of WikiLeaks and Julian Assange.
The Department of Justice has also characterized the WikiLeaks criminal probe as a national security investigation. Evidence may also indicate that the case has been categorized as terrorism related. If so, it raises questions about the methods (beyond traditional criminal law enforcement) that the Obama administration is employing against the online publisher, its employees, associates, and supporters.
Yesterday, national security commentator Marcy Wheeler, elucidated what those methods would be in light of recent court filings in a separate FOIA request by EPIC.
As Leopold already reported today, emails responsive to my request include discussions "about 'comment or guidance' on a subpoena the Justice Department issued to Twitter for information about Julian Assange and certain individuals who supported him and Manning."
No Time Limits For National Security Investigations
The Department of Justice guidelines outline that full criminal or national security investigations, like the one probing WikiLeaks, which possess "articulable factual basis" of a possible national security threat or criminal activity have no time limit and allow for "judicially-approved actions such as wiretaps, opening mail, monitoring and intercepting email, covert searches of homes and offices, and attaching devices to cars to track travel," according to the Brennan Center for Justice at New York University School of Law: "As evidence of a possible national security threat or crime accumulates, the FBI can use more and more intrusive investigative tools."
I reported last year that the Department of State, Bureau of Diplomatic Security Services, FBI, and Department of Justice, including the U.S. Attorney's Office in the Southern District of New York, U.S. Attorney's Office in the Eastern District of Virginia, the Counterespionage Section, and the National Security Division, among other law enforcement and intelligence entities, are involved in the U.S. investigation of WikiLeaks.
According to the Department of Justice prosecutors on April 25, 2014, "The investigation of the unauthorized disclosure is a multi-subject investigation and is still active and ongoing."
Last month I reported that Google waited over six months to notify three WikiLeaks staffers that search warrants had been issued for the content of their email accounts in March 2012.
In the Twitter 2703(d) appeal in the Fourth Circuit, the U.S. Attorney's Office in the Eastern District of Virginia represented that once the investigation was completed (closed or indictment returned) that the electronic order and other related search warrants and electronic communication orders would be unsealed.
I have found a dozen outstanding previously unreported search warrants related to the WikiLeaks investigation. As of last month, those documents remain sealed.